2006 August UHF Contest Report
The Preparation:
After the June contest debacle we set our sites on preparation for the September contest. But as August appeared, we already had our new Antenna Mast up complete with a new motorized winch. Most of the equipment was set up and running including 6m and 2m. Dave suggested that we finish up a few loose ends, finish setting up the equipment, and just head out for a mini rove. The floor of the RV was a mess with cables running back and forth but, it all worked and was ready to go! We were once again hooked. This would be the Maiden Voyage for the new rover. It would be a shake down cruise to prepare us for September.
The Equipment:
Radios
TS-2000x (144/222/432/1296 Primary)
TS-2000x (50 Primary, 144 Secondary)
IC-706MK2G (903)
DEM 222-28 for 222 Mhz
DEM 902-28 FOR 903 Mhz
TE Systems 1452G (144 Mhz – 350 watts)
TE System 4452G (432 Mhz – 175 watts)
Mirage C211G (222 Mhz – 110 watts)
Power System
2 – West Mountain Super Pwrgate's
2 – 115 AH Deep Cycle Batteries (Radios)
1 – 115 AH Deep Cycle Battery (Amps)
600 watt Power Inverter (RFI Quiet)
1 – Astron SS-30 Switching Supply
1 – Astron RS-30m
1 – Astron RS-70m (Amps)
Onan 2800 watt Generator
The Configuration:
Band
Power
Antenna
6 meters
100W
PAR Stressed Moxon
2 meters
350W
Directive Systems
DS144-6RS
1 1/4 meters
110W
Cushcraft 11 Element
70cm (432)
175W
Directive Systems
DSFO432-15RS
33cm (903)
30W
Directive Systems
3333LY
33 Element Looper
23cm (1296)
10W
Directive Systems
2345LY
45 Element Looper
The Trip:
As this was just to be a Saturday mini rove we planed a trip to Hogback Mountain, FM08us and then to Sideling Hill FM09??.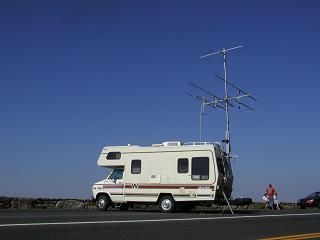 Departure was well before the start of the contest but the trip to Hogback seemed excessively long. By the time we finally got there anticipation was running high. We eat a short lunch and at 2:00 we got on the air. Right off the bat we ran the bands with Dave K1RZ FM19. He was as strong on 1296 as when we are just down the street from him! From there in a 10 minute period we caught Gene W3ZZ FM19, Jeff K1TEO FN31, Joe WA3PTV FN10, John W3HMS FN10, Owen K3CB FM28, and Russ N3EMF FM19 all in a row! After that it was just a constant flow of activity until it was time to head up the road. At one point we heard this really weak female voice frantically calling K3LFO Rover. It was My XYL N3MZM calling on the mobile rig and dual band vertical FM antenna at home in FM19! I think the best contact was with Dave , K1WHS in FN43. YES, we exceeded our goal of 90 minutes in a grid. So What? It was fun!
It took about 3 1/2 hours to get up to Sideling Hill in FM09. By then activity had dropped off so we only operated about an hour before heading for home.
The next morning the temptation was too great. Before starting up the lawn mower and getting busy on my chores for the day, I got on and worked many of the same stations from my drive way. I even snagged W2SZ/1 FN32 on 222 and 432 as well as working Jeff K1TEO FN31 again on 222 and 432. K4QI in FM06 was in there as well. We managed to catch up with Brian N3IQ FM09 from all 3 grids.
Summary:
All in all, for a half hearted effort, spur of the moment effort we did everything we set out to do. The only real problem we experienced was with the bad N connectors on the coax between the RIG and the TE Systems 432 amp. The Rover systems, although not yet completely installed, functioned well. The power systems proved to be easy to manage and the radios and antennas all stayed together and performed better than expected.
The Results:

2006 ARRL August UHF Contest            K3LFO

    ROVER                            MDC Section

    Operators: K3LFO, W3DIO

    Band      QSOs          QSO pts.      Mults.
    --------------------------------------------
    222        29            87            12
    432        35            105           12
    903        16            96            7
    1296       21            126           8
    --------------------------------------------
    TOTALS     101           414          39 + 3 = 42 

                          Claimed score = 17,388