2006 September VHF Contest Report
The Preparation: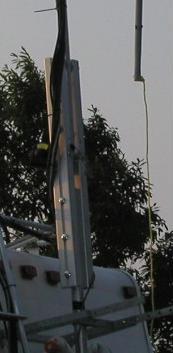 After the success of the August UHF Contest, we actually only had a few things we wanted to accomplish before the September contest. We had ordered a few square loops for 6 and 220Mhz to complete our collection. Our intention was to go ahead and mount the 6, 2, 220, and 432 square loops on the RV. With limited time due to busy work schedules, we only ended up installing the 6 meter and 2 meter square loops. We also had purchased another 30 amp Astron switching power supply. We had discovered during the August UHF that they were extremely RFI quiet as no decernable noise could be detected in the VHF spectrum and up. We installed that easily which actually freed up a lot of space in the forward closet. The forward closet contains our power systems for their radios and transverters. The rear closet was setup to contain our amplifiers and power systems. Both of these are a work in progress.
The last thing we needed to do was tighten down all the bolts on the lower mast. With this done the last thing left to do was lower the mast and get ready to drive down the road. Realize it seems like we didn't do much preparation and that's just the way we want it!!!
The Equipment:
Radios
TS-2000x (144/222/432/1296 Primary)
TS-2000x (50 Primary, 144 Secondary)
IC-706MK2G (903)
DEM 222-28 for 222 Mhz
DEM 902-28 FOR 903 Mhz
TE Systems 1452G (144 Mhz – 350 watts)
TE System 4452G (432 Mhz – 175 watts)
Mirage C211G (222 Mhz – 110 watts)
Power System
2 – West Mountain Super Pwrgate's
2 – 115 AH Deep Cycle Batteries (Radios)
1 – 115 AH Deep Cycle Battery (Amps)
600 watt Power Inverter (RFI Quiet)
2 – Astron SS-30 Switching Supply (Radios)
1 – Astron RS-70m (Amps)
Onan 2800 watt Generator
The Configuration:
Band
Power
Antenna
6 meters
100W
PAR Stressed Moxon
6 meters (Secondary)
100W
M2 6M HO LOOP
2 meters
350W
Directive Systems
DS144-6RS
2 meters (Secondary)
100W
M2 2M HO LOOP
1 1/4 meters
110W
Cushcraft 11 Element
70cm (432)
175W
Directive Systems
DSFO432-15RS
33cm (903)
30W
Directive Systems
3333LY
33 Element Looper
23cm (1296)
10W
Directive Systems
2345LY
45 Element Looper
The Trip:
With our Delorme USB Earthmate and Delorme Street Atlas software installed on our laptop, we headed down the road. We left the house around 10:15am on Saturday morning and headed towards our first site in FN10 (Broad Mountain). We found when planning our route using our map software that in the past we had added a few hours and a lot of extra unnecessary miles. So we decided to follow what the computer was telling us to do. Turns out it was right. It said it would take 2 hours to get there and sure enough. It did.
FN10:
We got to the site but not without Murphy. We seem to bring him with us whenever we go out. I guess its just a given as a rover. Our antennas, while in motion, lay down on the roof. The height at the top of the antennas is just over 12 feet. This is fine for driving down most streets and through most cities since utility wires and tree limbs are normally kept above 13'6″ feet. Either by design or by big trucks traveling the roads. Unfortunately those trucks don't make it up a lot of mountain roads. Well we made our turn on our last road and headed up the pass. As usual we steer left and right avoiding any low tree limbs but unfortunately one of them got us. We arrived at the site and inspected the damage. Upon inspection we found our 6 meter moxon had bent just a bit and a couple elements on our 432 yagi needed to be straightened. We raised the antennas up, turned them around. Then I looked up and saw we were parked 5 feet in front of power lines. We carefully moved the RV forward about 10 feet. Then we lowered the mast behind the RV. Then with our trusty Little Giant ladder, we began repairs. Didn't take long and we were ready to go. While doing the work, W3HMS/R showed up. We said hello and talked for a bit about our design. After a few more minutes, Joe (WA3PTV/R), showed up as well. We raised the mast back up and we were ready to go and still had about 40 minutes to wait before the contest. Time for lunch!
The contest began. We worked as many people as we could and we were off. No problems at all… EXCEPT.. We immediately discovered that 6 meters and 2 meters were interfering with each other. This is a problem we have had for a while but we were hoping it was tolerable. Fortunately this didn't seem to harm things too much because 6 meters was pretty dead. We worked all the big stations and called CQ a bunch but for the most part nothing to write home about.
As time came closer to 2 hours, we decided to start getting ready to move on to our next site. We pointed the antennas north and set the elevation straight up and down. Then we lowered the mast and antennas to the roof. We tied off the mast on the sides and we were ready to go. We drove down the site and fortunately without incident. We originally planned on heading from FN10 to FN01. While following the route that the Street Atlas software plotted for us, we discovered that it wanted us to get on the Turnpike. We decided we didn't want to do this, so we altered our plans and headed to FM19AW (McConnelsburg) first.
FM19: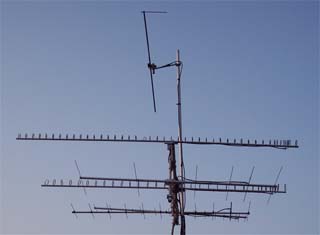 We pulled into the State park and started going down the long gravel road to the big tower. We dig a good job avoiding tree branches right up to the last 100 yards. We swerved right to avoid a low branch on the left and ended up dragging a pine branch across the top of the Moxon. That's when we heard it. Yep, you guessed it! Murphy struck again. This time it was a disaster. We looked at all the antennas and everything seemed easily fixed except the Moxon. The moxon was missing half of the antenna. Dave started the prep work to raise the antennas and turn them around to work on them while Jim went in search for the antenna pieces. Several more elements on various antennas, including the loopers this time, required straightening. Fortunately the yagi's have held up well. Dave attempted to reassemble the Moxon but found that one of the stressed arms was bent and upon attempting to gently nudge it back into the proper shape, the (6061-T6) aluminum tubing snapped. I can say two things about this. I'm really glad we installed the 6-meter square loop and I'm really glad that 6 meters wasn't really active anyhow.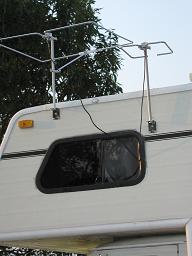 It could have cost us more than it did. After dressing our battle wounds, we got back on the air on all bands. Shortly after being on the air, we noticed some local interference. Upon looking out the window, Joe and John were there as well as a few other ham radio visitors. We worked as many stations as we could and decided it was time to move on as it was getting dark. We headed back down the long gravel road and made it to the end safe. We realized we hadn't worked PTV and HMS on all bands so we stopped and worked them quickly before heading on to our next grid. We thought that we had missed all the tree limbs but we had some leaves drapped over one of the beams but nothing seemed to have been the worse for wear.
FN01:
We headed down Route 30 and quickly realized we were ready for our first gas refill. We decided that we were going to not let it get too close to 1/4 tank of gas. This especially since the generator is hooked up to the RV's gas tank. We finally found a gas station that was actually open. Apparently, gas stations in Pennsylvania close at dark. We headed back on our course towards FN01. We had been given several suggestions on sites to operate from but since it was late and dark out we opted to go where we had been before. Shortly after entering FN01, we continued up the mountain until we got to the top. At the top there were some businesses. We pulled the vehicle into the parking lot. The vehicle was listing at 20 degrees to starboard (or is it port??). We decided since it was getting late and we still wanted to make it to FM09 that we were only going to activate FN01 and make as many contacts as we could in 15-20 minutes. We then wrapped up and got ready to head to FM09. We found on the map that the quickest course to FM09 was to continue on the same road we were heading down to Route 81. I believe it was about 30 minutes and we were at Hancock and merging onto 68 West.
FM09:
We made it to the visitor center at Sidling Hill. We pulled up, raised the antennas once again, and got on the air. We operated for a few hours. We made some dinner and ate while operating. Since the bands seemed to be quieting down and it was getting later, we decided to get some sleep.
INSERT SLEEP HERE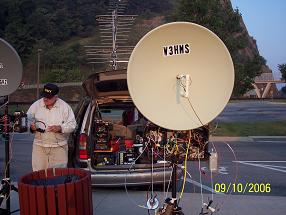 It turns out the visitor center is relatively quiet overnight. Dave was sleeping in the attic in the RV and was only awoken a few times by travelers stopping by to use the facilities. Anyhow we got about 7 hours sleep and got up. We had some breakfast and got ready to get back on the air. We noticed that we had some visitors again. Yep you guessed. "Hi John! Hi Joe!"


Should we be paranoid? Hehe Anyhow got a better opportunity while they were setting up to get a close look at their setup and I took some pictures. WA3PTV was sporting a 2.4ghz system that he was repairing for Brian ND3F (N3IQ/R) who is going to loan it to us to help us get on 2.4. Brian has been a great guide and very helpful and generous with his time and equipment to help promote activity on the bands. We got back on the air in FM09 and continued to operate for another hour and a half. Worked a lot of stations that probably went to sleep earlier in the evening. Well it eventually was time to start moving. We lowered the antennas back down on the roof and away we went once again. This time we were heading to FM08US (Hogback).
FM08:
It took a few hours to get down there from Sidling Hill but we eventually made it. We also noticed a lot of holes along the way where GPS would not work at all. Not sure why. We got down to Front Royal, VA which is just before the start of Skyline Drive. We stopped to fill the gas tank again. We pulled up to the entrance to Skyline Drive. Now we normally go through the middle cause I'm generally paranoid. The max height on the sides is 12'1″. Usually the guards are very helpful and friendly but we seemed to catch someone who woke up on the wrong side of the planet. She made us go through the side and fortunately our highest antennas were just underneath that (wiping sweat from forehead).
We started our run, as it is about 27 miles to Little Hogback and Hogback. We got to Hogback. Once again we run into another rover, W3CQH. Now I'm not sure if it's me or there are more rovers out there but we have never had rovers at every site we went to like this. Once on the air we had impressive contacts as usual from this amazing site. Band conditions were still flat and no openings on 6 meters. We made our lunch while operating. The best thing about operating from the Rover is that we didn't have to waste time going home or a hotel overnight and food was stocked in the fridge and cabinets so we never had to stop anywhere except to get gas. We worked there for about 2 1/2 hours before it was time to head down the road. We still had 3 grids left we were trying to activate. Again we pointed the antennas north and pointed them straight up in the air with elevation rotor and lowered the entire mast to the roof. Off we go.
FM07:
We traveled another 10 miles down Skyline Drive until we got to the first exit and headed off. We headed down the road to get FM07 on the Blue Ridge Parkway. While the Blue Ridge Parkway is at the end of skyline drive, it also sucks more gas to go up and down hills. We made it to the Blue Ridge Parkway and traveled about 10 miles to the first stop that looked like it pointed towards the North East. We got on the air and activated FM07. We worked K1RZ on 6 through 432 and were having problems on 903. Couldn't hear him at all. That's when I realized what had gone wrong.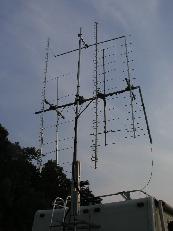 We're kind of ashamed to admit this. We raised the mast and we turned the rotor right towards him. Both of us forgot to turn the elevation rotor back to 0 degrees. We had worked him on 2 through 432 pointing straight up in the air. We contacted Dave again on 2 meters and asked him to give it another try and of course we had no problems working on 903 and 1296. So we shared our goof with him. Unfortunately, the site wasn't that great and we were really too far south for a lot of the stations. We worked as many people as we could. After 45 minutes, we lowered the antennas, packed up and headed back down the road to FM17.
FM17:
We went back down the Blue Ridge Parkway the way we came and got on Route 64 East. It was about 60 miles to FM17. And we needed to fill up again. Stopped along the way and got some gas. This is when the engine wouldn't start. EEEEK!!!! This has happened to us twice before. Both times it was when we had been driving a long time and the engine was a little warm. It looks like the starter solonoid gets overheated and wont engadge. We had to wait about 20 minutes and eventually the engine started.
Got into FM17 and pulled off and found a spot to operate from. We still don't have a good site to operate from down there but we ended up finding a small office building that had recently been built with no one around. The only problem is that there were lots of trees around. We put the antennas up and got on the air. We worked on 6 through 432 but were unable to complete any contacts on 903 and 1296. We worked about 11 contacts and decided if we wanted to activate one more gird we better get a move on. Again the antennas were lowered and off we were. GPS was working and Dave plotted a course to the first exit on Route 95 after entering FM18.
FM18:
We got off at the first exit and we looked around and found a little side road that seemed to have nothing on it. We raised the antennas and wah-lah we were on the air once again. At this point we only have about 10 minutes left in the contest. We got on the air and made only another 11 contacts. As we working K1RZ on 432 and trying to move up to 903, the state police showed up. Jim went to speak with the officer while Dave continued to operate. We informed him what we were doing and he asked us to leave and informed us we were on private property and needed to move immediately. He got back in his car and left and the contest was over. Once again, we made no 903 or 1296 contacts. This site was not very good either. Well we quickly lowered the antennas back to the roof and prepped for moving down the highway towards home.
The Results: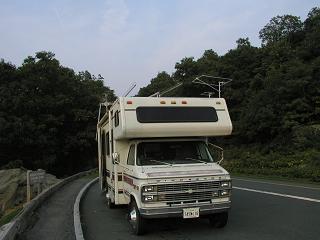 Dad and I went out for our first VHF contest in the new rover. Gave it a good workout and had alot fun. Band conditions were flat and 6-meter openings were nonexistant. Only had one MAJOR murphy and that was when the 6-meter moxon got friendly with a tree on the way up to our second site at fm19aw. Pretty much imploded. Fortunately we had a 6-meter square loop on the RV already and it worked out pretty well the rest of the weekend. We operated from FN10, FM19, FN00, FM09, FM08, FM07, FM17 and ended up in FM18. Not bad for our first major push with the new rover. Not as good as the previous September but then again last September we had a giant opening on 6, tropo and aurora.
Here's our score:
2006 ARRL September VHF QSO Party K3LFO/R
ROVER MDC Section
| Band | QSOs | Points | Mults |
| --- | --- | --- | --- |
| 50 | 90 | 90 | 17 |
| 144 | 86 | 86 | 16 |
| 222 | 62 | 124 | 15 |
| 432 | 72 | 144 | 16 |
| 903 | 24 | 72 | 8 |
| 1296 | 24 | 72 | 7 |
| —- | — | — | — |
| TOTALS | 358 | 588 | 79+ 8 = 87 |
Claimed score = 51,156