2007 June VHF Contest Report
The Preparation: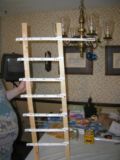 We have been working very hard to re-install the Rover equipment in the old Winnie Minnie. New feed lines needed to be prepared, the slide out shelves needed to be completed(see picture), the equipment needed to be re-installed, PTT lines and IF/Interconnect cables needed to be installed, power distribution needed to be upgraded, the Rover needed a new starter as well as some work on the running water system, and the list goes on.
A new 1296 Amplifier had been ordered from Down East Microwave, who, as many of you know, began a move to Florida about a week or so after the order was placed. I really doubted if we would see the Amp before September let alone for June. As it turns out, their reputation precedes them, they got it out and it arrived about June 3rd. That is one fine company to deal with! Even at my age I still get excited over a new peace of gear! Now with high hopes we expected to have the Amp installed and running for the contest. But as Murphy and Luck would have it the 1296 feed line came up lame with a high SWR which shut down the Amp. Checking all obvious connections failed to produce a cure. With time running short we decided to go back to 10w on 1296 and work what ever stations could squeeze through a sick 9913. Bummer!
We managed to get everything else fired up with the exception of the new 2304 system which was superseded by troubleshooting and repairs to other systems. Friday night we were ready to go with 6 bands 50 Mhz through 1296 Mhz but we still needed to stock up the RV with food and pack a weekend bag.
As of contest time we were barely ready so we decided to go for a shortened rove this time and just go out and have fun. Maybe we would hit 3 or 4 grids. Oh yes, the cost of gas was a definite factor! We are still feeling the sting of the gas bill from our Dayton trip. We didn't make up our minds until the last minute where we were going and when. That's when Dave got fed up with my asking the question and said "OK, let's just head down to Skyline Drive in Virginia, we always enjoy that." I agreed. An easy going weekend in the mountains sounded like fun.
The Equipment:
Radios
TS-2000x (50/144/222/432 Primary)
TS-2000x (1296 Primary, 50/144/432 Secondary)
IC-706MK2G (903)
DEM 222-28 for 222 Mhz
DEM 902-28 FOR 903 Mhz
TE Systems 1452G (144 Mhz – 350 watts)
Mirage C211G (222 Mhz – 110 watts)
TE System 4452G (432 Mhz – 175 watts)
Power System
2 – West Mountain Super Pwrgate's
2 – 115 AH Deep Cycle Batteries (Radios)
600 watt Power Inverter (RFI Quiet)
2 – Astron SS-30 Switching Supply (Radios)
Astron RS-70m (Amps)
Onan 2800 watt Generator
Power, LLC 80 amp 4 port (75amp Powerpole)
power distribution block
DC Power, LLC 30 amp 5 port (30amp Powerpole)
power distribution block
The Configuration:
Band
Power
Antenna
6 meters
100W
PAR Slightly UN-Stressed Moxon
6 meters (Secondary)
100W
M2 6M HO LOOP
2 meters
350W
Directive Systems
DS144-6RS
2 meters (Secondary)
100W
M2 2M HO LOOP
1 1/4 meters (222)
110W
Cushcraft 11 Element
70cm (432)
175W
Directive Systems
DSFO432-15RS
70cm (432)
50W
M2 432 HO LOOP
33cm (903)
30W
Directive Systems
3333LY
33 Element Looper
23cm (1296)
10W
Directive Systems
2345LY
45 Element Looper
The Trip:
We set out on a mission: To have fun, not spend too much money on gas and hit no trees!!! With Dave's recently acquired Bluetooth GPS receiver (iTrek M6), we found that we could use this with the latest version of W3KM's KMRover logging software to be able to see our current 6-digit grid. This is very helpful when trying to find the boundry of a grid square. Since Dave had to work early Monday morning we decided to do a short 5-6 grid rove. We also decided we wanted to spend a little bit longer in each grid especially Skyline Drive. So we decided to start at the Hogback overlook on Skyline Drive (fm08us).
Delorme Street Atlas estimated it would take about 2 hours and 20 minutes to make it from K3LFO's home QTH to Skyline Drive. Since the RV exponentially sucks more gas if we go over 60mph, we decided it would take a little bit longer than that. So we decided our target time to leave would be 10am. We loaded the food and drinks onboard and were at the gas station to top off the gas tank by 10am. We made it down there and up the drive to Hogback by 1pm. That gave us an hour to put the antennas up, get the logging software ready and to have some lunch.
We started off the contest right at 2pm and started working stations. About 30 minutes into it we got a knock at the door. Our friendly neighborhood park ranger wanted to know what we were doing. Dave explained that we were amateur radio operators involved in a contest and making contacts on frequencies above 50mhz to practice for emergency preparedness. He explained that he was concerned that we were pirate broadcasting without a permit and went on his way. Back to the contest, we worked at Hogback until almost 5pm making contacts like crazy. Around 5 we decided to try one of the other overlooks that pointed off to South. We picked up a few multipliers in fm07 and fm06 down to the South. Then we decided it was time to get moving on to the next grid.
This was not our best outing but we had fun doing it. Conditions were fair to good. 6M opened up a few times and added to our multipliers as well as giving us a VP5! Tropo was weak most of the time. W2SZ (468 miles) was in there most of the time on 2m but we couldn't get their attention on the other bands. K1WHS was never heard but I think from the weather report New England had a lot of rain which is a real tropo killer.
We ended up operating for about 20 hours of the contest, covered 6 grids and made over 350 contacts. We activated FM08, FM09, FM19, FM18, FM28, and FM29 and got a good nights rest over night at Dave's house as well.
In September, we are planning to add 400w on 6m, 240 w on 903, 150w on 1296 and a transverter with 40w amp on 2304. The antenna feed lines for the upper bands are going to be replaced with LMR-600. See you on in September!
The Results:

    Band      QSOs          QSO pts.      Mults.

    --------------------------------------------

    50         103           103           20

    144        97            97            17

    222        52            104           11

    432        64            128           11

    903        15            45            5

    1296       23            69            7

    --------------------------------------------

    TOTALS     354           546          71 + 6 = 77                          Claimed score = 42,042